November 11, 2018

QUITE A PICKLE!
NEW AFK SPIN-OFF HITS THE SHELVES!
AFK fans can now get their hands on the first issue of an all-new ACTION FIGURE KINGDOM spin-off series… ACTION PICKLE KINGDOM!
CHANGE OF PLANS!
The newest adventure — starring ACROBOT and SPARKINATOR — was originally scheduled to be told in the pages of ACTION FIGURE KINGDOM #11 & #12, but as the first issue neared completion, the story began to take on a quality of its own, and the decision was made to make it its own title all together.
RETURN TO PICKLE KINGDOM!
The 18-page ACTION PICKLE KINGDOM #1 is written and lettered by me ("Action" Steve), and illustrated by AFK cover-colorist (and frequent collaborator) Ziggy B. ACTION PICKLE KINGDOM teams the stars of ACTION FIGURE KINGDOM — ACROBOT and SPARKINATOR — with Ziggy's trademark character, BLOOD PICKLE, who you may remember from previous FREE COMIC BOOK DAY adventures (including one also called ACTION PICKLE KINGDOM which you can read for FREE at our "FREE READS" area at the bottom of the "comics" section — right here at actionfigurekingdom.com).
ZIGGY'S TIME TO SHINE!
Ziggy turned-in an outstanding job on this issue, and his engaging style is perfect for the somewhat silly nature the story I wrote for him — a fun-filled tale which also introduces a new character named WISH COMMANDER, and a new friend for TOMMY named KIRA, who brings her own MOONFOX action figure along for the adventure. Oh yeah… and there's also a LAMP (but not the same lamp you got to know in the now-classic "ZOMBIE KINGDOM" storyline told in AFK#5 & AFK#6). One thing you're sure to notice about the artwork is that ZIGGY's AFK world is much more lush than the barren moonscapes usually found in an issue of ACTION FIGURE KINGDOM, and ZIGGY inks his work, which really takes ACTION FIGURE KINGDOM artwork to a whole new level. You can see for yourself by picking up a copy at our affiliated comic shop —FUNNYBOOKS, in Lake Hiawatha New Jersey — or you can purchase one right here in our store at actionfigurekingdom.com, and we'll mail it out to you!
AFK#11 ON THE WAY?
So now… what about ACTION FIGURE KINGDOM #11? Well, it looks like that one's back in my hands. Luckily I've already started on what was going to be ACTION FIGURE KINGDOM #13 — after two issues by Ziggy — so AFK#13 will now be moved into the AFK#11 slot. I've written the 24-page script, and have already started finished-pencils on the first 12 pages, which were previewed in our 2018 FREE COMIC BOOK DAY issue — the one with RRRAPIDO (also in our FREE READS section).
PICKLE KINGDOM #2
I've also just completed the script to the 22-page ACTION PICKLE KINGDOM #2, and have handed it off to Ziggy. I have the feeling we will both be working thru the winter on these two issues. Hopefully, they will both be available in early 2019. Stay tuned!
Thanks for reading! – Action Steve
---
July 28, 2018

HERE AGAIN! — CON TOMORROW!
CON-tinued
I didn't plan back-to-back posts about comic cons, but we (Me and that guy, ZIGGY, again) recently spent two days (July 7th & 8th) in Artists Alley at the GARDEN STATE COMIC FEST, which is held every summer at the Mennen Arena in Morristown, New Jersey — only 20 minutes away from ACTION FIGURE KINGDOM HEADQUARTERS! GSCF has a good balance of vendors and artists, and there are always great cosplayers. This year's con seemed to be well-attended by fans, and because GSCF is so close to home, we see a lot of people we know. It's always a lot of fun!
HEY! — LOOK AT US!
Throughout the weekend, ZIGGY and I did our best to capture the attention and interest of the con attendees, and to get our comics into readers' hands. I was fortunate enough to find many new readers for ACTION FIGURE KINGDOM, and ZIGGY created new fans of his two creative endeavors, his comic book miniseries SIDEKICKED, and his OPERATION PAJAMA PANTS Hard Cover. ZIGGY has the advantage in sales because he does a free original dance with every purchase.
DRAWING FOR FUN!
Comic cons are LONG! Luckily, ZIGGY & I are both artists, and we spend most of the time drawing. I'm not at the point where people are paying me to draw for them, so I just sketch whatever I'm feeling – always one of my original characters. Over the past several cons, I've been refining my convention sketch style. I've started inking my sketches and have even gotten into the whole Copic Marker coloring thing. It's been a great feeling just drawing for FUN again! And I usually wind-up with some pretty solid sketches that I can turn into pin-ups, covers, or something else down the line.

NEXT STOP… BALTIMORE!
Now that GARDEN STATE COMIC FEST is a wrap, we are turning our attention to our next comic con — the BALTIMORE COMIC CON (at the end of September) where ZIGGY and I will be included in the ALL-AGES / KIDS LOVE COMICS section of Artist's Alley for the first time! This makes us happy! And, by the time BALTIMORE rolls around, ACTION FIGURE KINGDOM #11 — which is drawn by ZIGGY — will be on sale. — So get ready to see some new dance moves!
Thanks for reading! – Action Steve
---
June 13, 2018

WE NEED MORE KIDS CONS!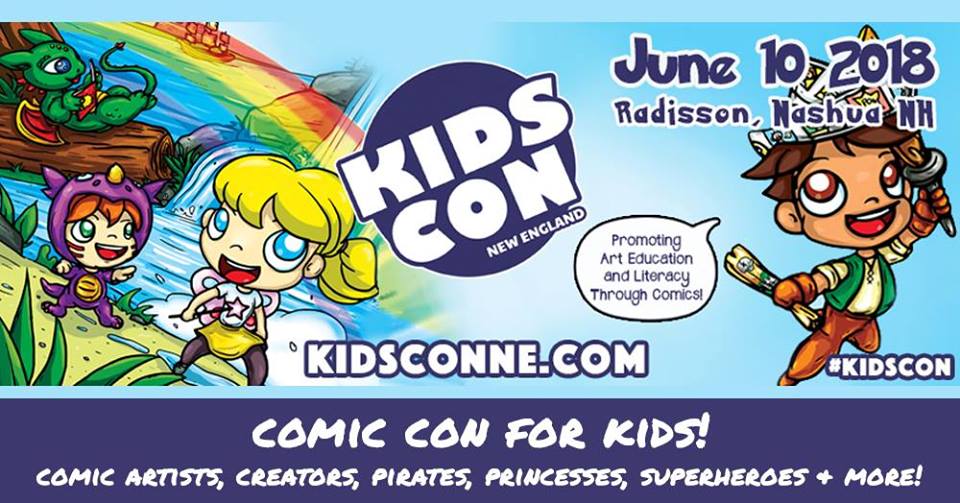 I just returned from KIDS CON NEW ENGLAND, in Nashua New Hampshire, and what a great experience it was!
We (me and AFK Cover colorist — and artist of the upcoming AFK#11 — Ziggy B) took the 4-hour drive from New Jersey on Saturday night to attend the one-day con on Sunday, and it was well worth the trip!
KIDS CON NEW ENGLAND was unlike any comic book convention I have ever attended. The organizer of the event, Emily Drouin (the creator of the comic book series, "EPLIS," who we met at last year's Baltimore Comic Con) did an amazing job putting this together. There was a sizable vendors room, which was laid-out and set-up very nicely. There were kid-themed panels and activities from start to finish. You could have your face painted or get a balloon animal. The program handout was AMAZING (complete with kids activities like a word search featuring all of the attending artists' creations). And the costume contest was kids-only (and was heartwarming to watch). The event (in its third year) was well organized, and very well attended, thanks to Emily's hard work, thoughtfulness, and excellent promotional campaign.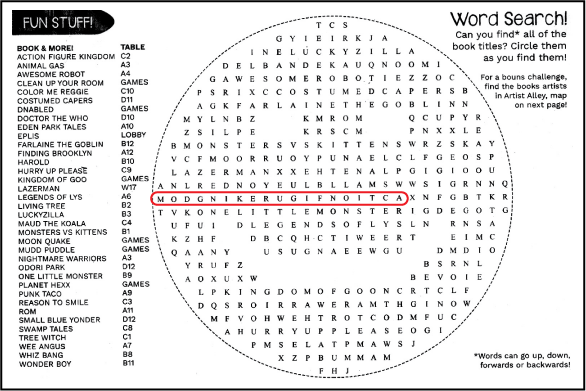 Although I write ACTION FIGURE KINGDOM to appeal to fans of every age, it seems to be most successful with younger readers, which made this "kids-only" con perfect for AFK! At most comic cons I have to pick kids out of the crowd to come take a look at AFK, and I would estimate the ratio of adults to kids is to be AT LEAST 25:1. And at many cons, I am near a vendor who is selling non-kid-friendly material. This KIDS CON was different — Families and kids EVERYWHERE! The only adults were parents, vendors, KIDS CON staff (very helpful and always nice, BTW), and cosplayers. We need more cons like this one in this world, and ALL cons should feature a "kids area" for creators of kid-friendly material. We can't wait to go back next year!
---
May 15, 2018


Hope you didn't miss one of the biggest days of the year for comic shops around the world, because FREE COMIC BOOK DAY (FCBD) 2018 is already in the books (you see what we did there?). The extravaganza — which takes place the 1st Saturday in May every year — is designed to get more comics into readers' hands, and hopefully create some new fans!
AFKFCBD2018
Once again, we here at ACTION FIGURE KINGDOM HEADQUARTERS, produced a special, ALL-NEW, FREE edition of ACTION FIGURE KINGDOM for FREE COMIC BOOK DAY! The ACTION FIGURE KINGDOM FREE COMIC BOOK DAY 2018 Edition was inspired by the realization that FREE COMIC BOOK DAY would fall on CINCO DE MAYO this year. The Mexico-themed celebration sparked the idea for an ACTION FIGURE KINGDOM FCBD storyline that was too good to pass up.
INTRODUCING RRRAPIDO!
I came up with the character, RRRAPIDO, a while ago — A Latino character with speed powers (the three "R's" indicate "rolling your "R's"). He was one of a new wave of heroes I was working on who would all be introduced in a "try-out-themed" ACTION FIGURE KINGDOM storyline somewhere down the line. When I discovered the 2018 FREE COMIC BOOK DAY / CINCO DE MAYO connection, I started thinking about moving the try-out storyline to the top of the AFK schedule. I could introduce RRRAPIDO to the ACTION FIGURE KINGDOM Universe on FREE COMIC BOOK DAY, and make him a hero specifically from Mexico. The more I thought about the synchronicity of the idea, the more I knew it had to be done.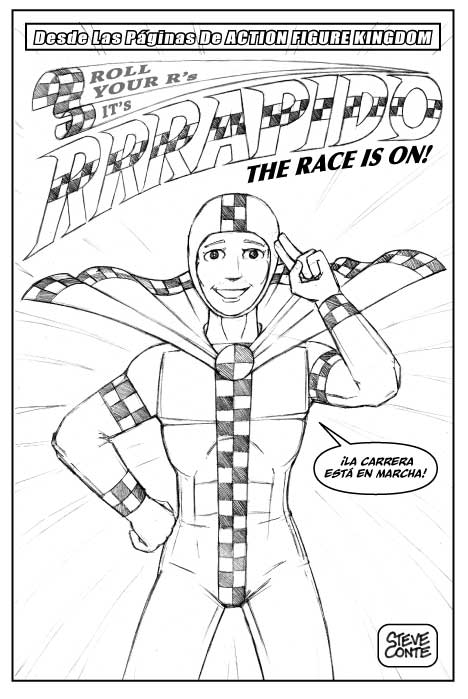 ¿HABLAS ESPAÑOL?
I knew I was on to something when I came-up with the concept of presenting all of RRRAPIDO'S dialogue in the FCBD issue in Spanish, and utilizing ACROBOT as a translator throughout the story (the standard method used when a comic book character speaks another language, is to put English dialogue in parenthesis, which indicates it's really another language). Having RRRAPIDO's dialogue in actual Spanish, was more authentic, and combined with SPARKINATOR's rudimentary understanding of the language, led to much of the issues humor. As a bonus, the "translation concept" is also somewhat educational — it certainly was for me! I was fortunate to have a friend in Mexico City who was willing to help me with all of my Spanish dialogue, and was also very pleasant to work with – Thank you Regina Sienra!

SKETCH EDITION!
After writing the FCBD2018 script, and seeing I had a 12-page story on my hands, I realized I wouldn't be able to finish the time-consuming finished pencils in time for a FCBD release. This is when I came-up with the idea to produce a "Sketch" edition instead. Besides being quicker to draw, the sketch version would also give AFK fans something different than a regular issue of AFK, and would also look pretty cool (the sketches always do). Thanks to this decision, I actually beat my deadline and had finished the 12-page story several weeks before FREE COMIC BOOK DAY. This is when AFK cover colorist — and the artist of the upcoming ACTION FIGURE KINGDOM #11 — Ziggy B, and I, came-up with the crazy idea of adding some of his pages from AFK#11 to the AFKFCBD2018 Edition. Not only would this give everyone a preview of the very NEXT AFK issue, but it would also give us the opportunity to showcase the "ACTION FIGURE" element of AFK, since ZIGGY's pages would feature the AFK kids playing with their action figures – while my story was all "KINGDOM."
THE RACE WAS ON!
Once we decided to include Ziggy's pages we were back under deadline. Ziggy increased his pace (he had a lot of the penciling finished, but he still had most of the inking to do) and I began lettering his pages (luckily we work well together). The end result is our biggest FREE COMIC BOOK DAY issue ever — 24-pages if you include the covers — 12 sequential pages and a RRRAPIDO pin-up by me, and 6 sequential pages plus a pin-up (the cover to AFK#11) by Ziggy. Thanks to a quick turn around by our printer, we had the issue printed just in time for FREE COMIC BOOK DAY.  – ¡Y el resto es historia! (and the rest is history!).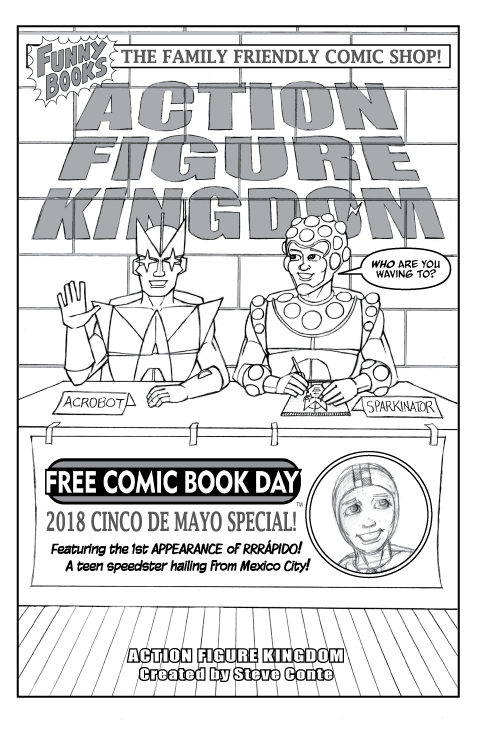 If you didn't get a copy of the AFKFCBD2018 CINCO DE MAYO SPECIAL (handed out at FUNNYBOOKS on FREE COMIC BOOK DAY, see below*), you can now read the whole thing right here at actionfigurekingdom.com.Simply go to the "comics" tab and scroll to the bottom of our "FREE READS" section — where you will also find last year's "4th-wall-breaching" FCBD issue.
TO BE CONTINUED…
While you may have to wait a while for the rest of the RRRAPIDO try-out storyline, (currently scheduled to continue in AFK#13), you will be able to continue Ziggy's story this summer in ACTION FIGURE KINGDOM #11. More on that in the next blog.
Thanks for reading! – Action Steve
*Did you know the creator of ACTION FIGURE KINGDOM, Steve Conte (A.K.A. the guy writing this) also owns and operates a friendly little New Jersey comic shop named FUNNYBOOKS (funnyrama.com). The AFK FREE COMIC BOOK DAY 2018 CINCO DE MAYO SPECIAL was offered as a FUNNYBOOKS exclusive on FREE COMIC BOOK DAY this year. A limited number of copies are still available.
---
March 3, 2018

FORWARD MARCH!
Hello out there, AFK FANS! It's March 2018 and I'm back to fill you in on everything going on at ACTION FIGURE KINGDOM headquarters!
AFK#11 IN PROGRESS!
I'm pretty excited about the upcoming ACTION FIGURE KINGDOM #11. It's the first AFK issue illustrated by a guest artist — AFK cover colorist, ZIGGY B — and he's doing a great job. ZIGGY is a talented artist and his style is very well suited for the sometimes-silly nature of ACTION FIGURE KINGDOM. AFK#11 will introduce several new characters to the AFK Universe — including ZIGGY'S own creation, BLOOD PICKLE — and will also feature a new costume design for SPARKINATOR! AFK fans can watch Ziggy work LIVE on TWITCH TV every Tuesday night at 8pm at https://www.twitch.tv/fakemccoy. Pretty cool!
FREE COMIC BOOK DAY ON THE WAY!
While ZIGGY works on AFK11, I'm busy working on the 2018 ACTION FIGURE KINGDOM FREE COMIC BOOK DAY SPECIAL — an all-new 12-pager set to introduce a new AFK hero on FREE COMIC BOOK DAY, (Saturday May 5th / CINCO DE MAYO — And let's just say this new character's first appearance is appropriately timed for the annual Mexican celebration!). God willing, the AFK FCBD 2018 SPECIAL will be available for FREE at our affiliated local comic shop, FUNNYBOOKS Comics & Stuff (in Lake Hiawatha, NJ) on FREE COMIC BOOK DAY, and then will join last year's FCBD issue at our "FREE READS" section on the "COMICS" page at actionfigurekingdom.com.
COLOR THEORY!
My search for an interior colorist for AFK continues. I thought I had found the right person, but things fell through, so I am now looking at new options. The plan is to color the 40-page ACTION ZOMBIE KINGDOM storyline (from AFK#5 & #6) first — hopefully in time for HALLOWEEN 2018. Stay tuned.
CONS!
Ziggy and I have committed to several upcoming comic cons this Spring. First up is the Kid's Comic Con at Bronx Community College on Saturday, April 21st. I attended this last year and it was a lot of fun. The following week on April 27th, 28th & 29th, Ziggy and I will be spending the weekend in Artist's Alley at EAST COAST COMIC CON, at the Meadowlands Exposition Center, in Secaucus, NJ. I've heard good things about this con, and this will be my first time attending. If you are planning on going please look for us there.
AFK OFFICIAL
Finally, with everything going on, I've decided it was time to take ACTION FIGURE KINGDOM out of its "grass roots" stage, and form an official company. ACTION FIGURE KINGDOM LLC was formed on February 12th, 2018 — my Mom's 80th Birthday! Happy Birthday MOM! — Without her and my dad, ACROBOT and SPARKINATOR wouldn't even exist.
Thanks for reading! – Action Steve
---
January 28, 2018

MILESTONE ISSUE!
"A powerful and gruesome archenemy from 30 years ago has resurfaced, and once again has his sights set on destroying the GOOD GUYS! Will even the combined might of two ACROBOTS and two SPARKINATORS be enough to defeat MISTER BLAST?"
Find out in the all-new, ACTION FIGURE KINGDOM #10 — Now on Sale!
In the comic biz, certain issues are known as "milestones." Generally every 25 issues seems to trigger the milestone tag. But for a comic book adventure just starting out, hitting double-digits also qualifies! Another "milestone qualifier" is the content of the issue itself. There should be something special — more epic — than just a regular issue of the title. ACTION FIGURE KINGDOM #10 definitely fits that bill!
Not only is AFK#10 the second-longest ACTION FIGURE KINGDOM issue ever — weighing in at a pleasing 32-pages (only the 48-Page, AFK#4 is lengthier) — but it also wraps-up "BLAST FROM THE PAST" — a four-issue story arc years in the making — and features two ACROBOTS and two SPARKINATORS in an epic battle against ACTION FIGURE KINGDOM's most powerful BAD GUY, MISTER BLAST. AFK#10 also continues the evolution of AFK's "real-world" framing sequence, which sets ACTION FIGURE KINGDOM apart from other superhero stories. In AFK#9, the "kids playing with their action figures" scenes were shuffled-in throughout the issue — Instead of being presented in multi-page sequences, usually at the beginning or end of an issue — and this continues in AFK#10.
ACTION FIGURE KINGDOM #10 also represents a new beginning for AFK. Now that I have TEN issues completed — enough of a head-start for two graphic novels already — I am exploring ways to take AFK out of its grass roots stage, and to a wider audience, by contacting agents, specific publishers, and even some comic shops, and looking at some digital options. I've also lined-up several convention appearances for spring and summer 2018. Meanwhile, I'm working with some colorists to produce the first, full-color, AFK story, and I've returned to writing new material, including the script to ACTION FIGURE KINGDOM #11, the first AFK adventure to be drawn by a guest artist — AFK cover colorist, Ziggy B. I've handed Ziggy the script, and he's already working on it. I can't wait to see his pages!
For me, ACTION FIGURE KINGDOM #10 also represents a personal accomplishment. The "BLAST FROM THE PAST" storyline is something I planned a while ago, and seeing the whole thing in print is very rewarding (and also somehow surreal). Reaching double-digits is like getting to the end of long race — or more like the end of the first leg of a longer race, because there are still many ACTION FIGURE KINGDOM stories to tell. Stay tuned!
Thanks for reading! – Action Steve
---
October 9, 2017

MAKING CON-TACTS!
Hello again! I'm writing this the day after NEW YORK COMIC CON 2017, where we spent the weekend squeezing our way through publishers, fans, cosplayers, promotions, and comic book professionals. NYCC is pretty nuts.
Weeks before NYCC, AFK Cover colorist (Ziggy B.) and I also attended the BALTIMORE COMIC CON, where we shared a creators' table in artists' alley to promote ACTION FIGURE KINGDOM, and Ziggy's own comic, "SIDEKICKED," as well as his original graphic novel, "OPERATION PAJAMA PANTS." I had my most successful con appearance yet — getting ACTION FIGURE KINGDOM into many more readers' hands, while also networking with all kinds of great people. Baltimore was a great experience and we encourage anyone looking for a real "comic book-centric" comic con to consider making the trip one year. I certainly hope to go back in 2018.
Besides promoting ACTION FIGURE KINGDOM, I spend a lot of time at the cons (whether I have a table or not) basically "interrogating" other comic book creators to see what is working for them. I am always interested in how they fund their work, where they get their comics & stuff printed, what paper and cover stock they are using, how they have their "merch" produced, how they distribute their books, and all the other things that go on when creating a comic book. Trust me… there are a LOT of bases to cover! I find that comic cons — for me — are both inspiring and intimidating at the same time. Everyone is so talented!
Now that the fall's two big east coast comic cons are behind us, it's time to take everything I learned and move forward in the multiple directions it will take to bring ACTION FIGURE KINGDOM to the next level. I have many new ideas to explore!
Thanks for reading! – Action Steve
---
August 31, 2017

AFK10 ON THE WAY!
When we last left ACTION FIGURE KINGDOM, I had just finished putting the final touches on ACTION FIGURE KINGDOM #9 — Part three of the four-part "Blast From the Past" storyline. The 24-pager went on sale — as planned — the week before FREE COMIC BOOK DAY 2017. I also managed to finish-up the 12-Page, ACTION FIGURE KINGDOM FREE COMIC BOOK DAY 2017 SPECIAL — which featured artwork by both me and AFK Cover Colorist, Ziggy B. — just in time to hand it out for FREE on FREE COMIC BOOK DAY at FUNNYBOOKS. If you missed out on the FREEBIE, we will soon be adding it to our "FREE READING" section right here at actionfigurekingdom.com.
Since then, I've been focusing on my "day job," my Comic Book Shop, FUNNYBOOKS in New Jersey — which had it's 25th BIRTHDAY in June. We celebrated mightily by renting an extra space on the block, and opening-up a month-long "pop-up" discount outlet called the FUNCAVE, where we also hosted our 25th BIRTHDAY BASH with Special Guest, Fan-Favorite Comic Book Creator, Amanda Conner. Ziggy and I also shared a table at the GARDEN STATE COMIC FEST in early July to have some fun while promoting our comics.
During my "free time" I've continued to move forward with ACTION FIGURE KINGDOM. I recently completed the full script for AFK10 and the first draft for AFK11. AFK10 is the 32-page conclusion to "BLAST FROM THE PAST," the 4-part, "Time Travel" storyline which began in AFK7 with the introductions of CLASSIC ACROBOT, CLASSIC SPARKINATOR, and MISTER BLAST. Meanwhile, AFK11 will be the first issue of ACTION FIGURE KINGDOM to be drawn by a guest artist — the formerly mentioned AFK cover colorist, Ziggy B. AFK11 co-stars Ziggy's trademark character, BLOOD PICKLE, and I think everyone is going to really love this one.
As of this post, I've just completed lettering the rough layouts to the first 16 pages of AFK10 (half the issue). And I've finished pencils on FOUR of those pages. I would love to have the issue out by Christmas 2017 — after all, it is a Christmas story — but this time I can't make any promises… other than to do my best!
Thanks for reading! – Action Steve
---
May 9, 2017

NOW ON SALE!
---
April 27, 2017

FRECKLES AND LIGHTNING BOLTS!
Hello! It's me, "Action" Steve, and I'm back in action, so to speak. I recently finished my PT for my RSI, and have returned to drawing — a little at a time, and with some adjustments to my method, including some arm/hand support (compression sleeve and glove, and a tennis elbow band), and some ergonomic improvements (like a new chair – woohoo!). I also have to remember to take breaks and do some stretching. Hopefully I won't have to go through that again!
I recently put the absolute finishing touches on the upcoming 24-page, ACTION FIGURE KINGDOM #9 ("Blast From the Past" Part 3). Before it goes to the printer, I always look it over one final time, to check for things I may have missed, either in the writing, the lettering, or in the artwork. I call this the "Freckles and Lightning Bolts" stage, because I always check to see if I remembered to always give SPARKINATOR his freckles, and to always put the lightning-bolt over his head — and sure enough, I missed a bunch of freckles. I was fortunate to also catch two (hopefully) final typos, which I hadn't caught in previous proofreads, and which also fooled my spellchecker. After I made all the necessary corrections, I met with AFK cover-colorist Ziggy B, and we worked-out the final colors for the front and back covers, and then we uploaded it to the printer (I will post the cover as soon as I can – for now, you can see it on our "issues" page, right here at actionfigurekingdom.com). If everything goes smoothly at the printer, ACTION FIGURE KINGDOM #9 will hit the FUNNYBOOKS' shelves on NEW COMIC DAY (May 3rd), just in time for the Annual FREE COMIC BOOK DAY crowd on May 6th. It's almost like I planned it that way!
Hope everything is going good with you! Thanks for Reading! – Action Steve
---